Press Releases
PAINTSVILLE, Ky. – U.S. Rep. Harold "Hal" Rogers (KY-05) joined the U.S. Army Corps of Engineers and local leaders in Johnson County on Thursday to kick-off a major flood mitigation project in Paintsville. Congressman Rogers secured $118 million for the U.S. Army Corps of Engineers to design and implement a comprehensive plan through the Section 202 program to protect the people of Johnson County from future devastating floods. The proposed project includes a levee-flood wall system and a flood warning system.
Over the last four decades, Congressman Rogers has secured nearly $800 million for flood control projects across Kentucky's Fifth Congressional District.
"Flood control has been one of my top priorities since I was elected to federal office. I don't want our folks to go to bed in fear every time a storm rolls through the mountains, and thanks to the Army Corps and local leaders, we have completed some impressive projects in several communities to help protect the people of southern and eastern Kentucky for generations. We're hoping to do the same thing here in Johnson County," said Congressman Rogers. "I want to applaud Judge Mark Mckenzie and Mayor Bill Mike Runyon for working together with the Army Corps to advance this life-saving effort."
The Army Corps' Louisville District is working in close coordination with the Johnson County Fiscal Court and the Paintsville City Council to provide flood protection where it's needed the most.
"The Johnson County Section 202 Flood Mitigation Project will improve public safety, reduce the impact from flooding for Paintsville and Johnson County and create jobs - therefore impacting our local economy. This $118 million project would not be possible without the consistent efforts and support of Congressman Hal Rogers," said Mark McKenzie, Johnson County Judge Executive.
"The city of Paintsville and its citizens want to thank Congressman Rogers for his efforts on our flood mitigation project. This project is huge for our community, as we have suffered for years with a flooding problem. This project will go a long way to eliminate the risk of repetitive flood damage to buildings and structures. As Mayor, I am so thankful to have you in our corner during this fight," said Bill Mike Runyon, Mayor of Paintsville.
The Army Corps completed a feasibility study for the project in April.
"The Johnson County Fiscal Court, the City of Paintsville and Congressman Rogers have played a significant role to bring us where we are today. In August 2018, the Louisville District was first assigned to design, construct and look at cost effective means to address flooding issues in the City of Paintsville and Johnson County," said Col. Eric Crispino, U.S. Army Corps of Engineers Louisville District. "We have divided the project into three phases for construction and implementation. We will begin awarding contracts for the first two phases in the next fiscal year, which includes a flood warning system and some features to reduce risk to the county courthouse and several structures in the surrounding area."
The U.S. Army Corps of Engineers, Louisville District is hosting a virtual informational public meeting for the Section 202 Johnson County Flood Risk Management Project, located in Paintsville, Kentucky, on Thursday, September 30, 2021, from 6 – 7:30 p.m. (EDT). To participate in the virtual public meeting beginning at 6 p.m. (EDT), log in at: https://usace1.webex.com/meet/michael.moore17 and enter your name and email address. For the presentation's audio portion, call 1-844-800-2712. Access code: 199 250 1980.
Comments and questions may also be submitted via e-mail to: JohnsonCosect202project@usace.army.mil
To learn more about the project visit: https://go.usa.gov/xMgaz.
For additional information, contact the U.S. Army Corps of Engineers, Louisville District Public Affairs Office at (502) 315-6767.
For more information about Congressman Rogers' work in Washington and at home in Kentucky, visit https://halrogers.house.gov.
To view more photos from today's event, visit Congressman Rogers' Facebook page.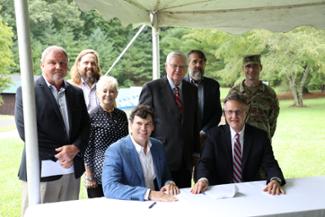 Johnson County Flood Mitigation Project Ceremonial Signing