Veterans
Our nation is a safer place because of the sacrifices made by our brave men and women in uniform. As a former National Guardsman, I highly respect the devotion our veterans have for this great country and will always strongly support programs that serve their best interests. The well-being of our nation's veterans is a top priority and there is unquestionably much more work to be done.
For more information on veterans benefits that you or a loved one may be eligible for, please click here.
Throughout my career in Congress, I have consistently voted to increase funding for vital programs and have fought to expand and improve benefits for veterans. During my tenure as Chairman of the House Appropriations Committee from 2011 to 2016, Congress provided the then-highest level of discretionary funding ever for the Department of Veterans Affairs – an increase of $21.3 billion or 40%. In an effort to address some of the most pervasive problems facing our veterans today, the Committee has also prioritized the funding of mental health, suicide prevention, traumatic brain injury, homelessness, and PTSD care services.
Notably, Congress has also made significant progress in reducing the disability claims processing backlog, ensuring veterans' claims are processed in a timely and efficient manner. We have also worked hard to ensure our veterans have seamless medical care as they transfer out of active duty by pressing the Department of Defense and the VA to develop high-quality, interoperable electronic health records. In the 115th Congress, I was proud to support the passage of the VA MISSION Act, legislation that will fundamentally transform several elements of the VA healthcare system. Instead of the VA relying on numerous programs to ensure veterans are able to access timely healthcare, the VA MISSION Act consolidates VA's community care programs into a new Veterans Community Care Program. This new program would strengthen the VA by merging the Department's tangled web of competing and confusing community care programs, including the Choice Program, into one system that is easier to navigate for veterans, VA employees, and community partners. It will help to ensure veterans choose the VA by getting them the right care at the right time with the right provider.
I have also been a strong supporter of legislation that improves veterans' health care, including programs to assist disabled veterans and their caregivers. I firmly believe our veterans deserve the very best health care available and that is why I have fought to recruit and train more qualified medical professionals at the Department of Veterans Affairs' medical facilities.
Rest assured, I will continue to be a voice for veterans and work hard to always honor their sacrifice and ensure they receive the benefits they deserve. America is the greatest nation on earth because these courageous men and women served and defended our precious freedoms. I am truly grateful for the millions of veterans that have put their country first and stood up for the values that our nation represents.
CLICK HERE FOR HELP WITH A VETERAN'S ISSUE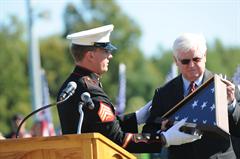 April
2023
February
2023
July
2022
December
2020
March
2020
February
2020
February
2019