Health Care
Historically, many areas of Kentucky's Fifth District have been underserved when it comes to medical and dental care. Throughout my career, I have worked to increase access to health care services, reduce the number of uninsured individuals and families, and improve the overall health of people in southern and eastern Kentucky.
Tragically, Kentuckians disproportionately suffer from some of America's most common health disparities. Kentucky has one of the highest cancer mortality rates in the nation, with the largest percentage of those deaths occurring in the Fifth Congressional District. Our region also has some of the highest rates of diabetes, heart disease and obesity in the country. However, I believe we can tackle these problems that have plagued Appalachia. To combat these and other similar challenges, I have consistently supported programs specifically tailored to serve rural regions like ours.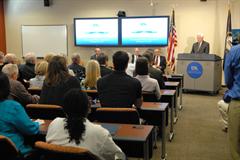 For example, I have long supported federal resources for Community Health Centers, and I helped secure the seed funding to establish the Center of Excellence in Rural Health in Hazard. Operated by the University of Kentucky, the Center provides academic and residency programs for students from Appalachia, while also providing an array of health services for area residents. I am also proud to have helped to fund healthcare teaching facilities at Morehead State University and Union College. Along with the growth of the Kentucky College of Osteopathic Medicine at the University of Pikeville, we are creating a vibrant health network in our region that focuses on high quality care, wellness and prevention. One of my proudest achievements is the establishment of the Marty Driesler Lethal Cancers Project at the University of Kentucky Markey Cancer Center. Named in honor of my former Chief of Staff, who died in 2004 after a three-year battle with lung cancer, this first-of-its-kind healthcare initiative increaed the early detection of cancer and improved survival rates for people with deadly cancers. All together, since 2001, I have secured over $21 million for equipment, construction, and other improvements for hospitals, healthcare facilities and wellness programs throughout southern and eastern Kentucky.
Today, one of the greatest challenges we face in healthcare policy comes from the disastrous Affordable Care Act, or Obamacare. This law was passed in 2010 under the guise of lowering healthcare costs, but it has only proven to create more regulations, taxes, and fees, which in turn have driven up premiums and deductibles. In fact, the average Kentuckian saw premiums increase by 25% in 2017 compared to 2016. This has placed a terrible strain on working families seeking care, on doctors treating patients, and on states which are forced to foot the bill for much of the cost. Healthcare costs have risen much faster than expected in recent years, and this has made it harder for people, especially in southern and eastern Kentucky, to access and pay for quality care.

That is why I am committed to repealing and replacing Obamacare with commonsense, patient-focused reforms that address the high costs of care, including tort reform and greater competition in the insurance marketplace. I support healthcare reform that will provide patients with more choice and lower costs so that you never have to worry about being turned away by your doctor or having your insurance coverage taken away. I also want to protect the more than 50 million seniors and individuals with disabilities who rely on Medicare for access to healthcare, and ensure that the United States continues to lead the world in cures and treatment of disease.
As a senior Member of the House Appropriations Committee, I will do everything I can to ensure that people in our region have access to quality affordable healthcare. Much work remains to achieve this goal, but I am optimistic that we can clear these persistent hurdles with a united Congress and President striving for constructive reform.
Related News
December
2020
July
2020
March
2020
February
2020
September
2019
July
2019