Press Releases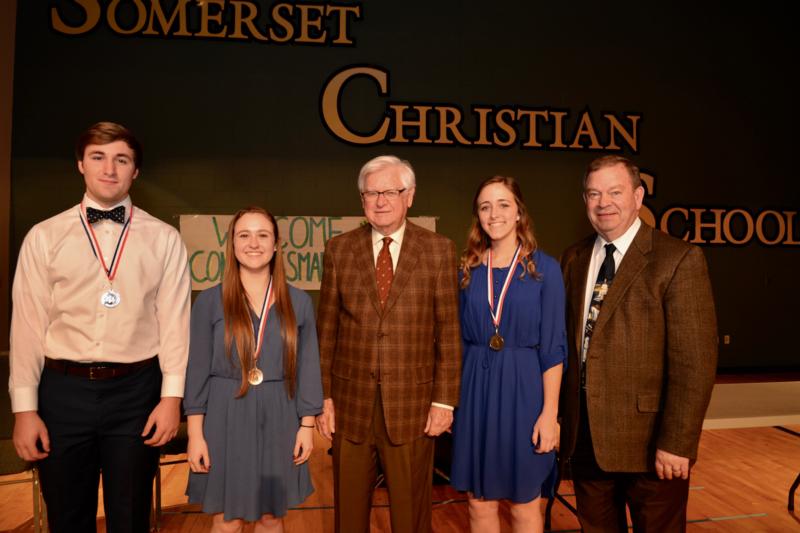 Today, U.S. Rep. Hal Rogers (R-Ky.) presented three students at Somerset Christian School with Congressional Award medals in recognition of their personal achievement, initiative and service to others.

Congressman Rogers presented John Garland, a senior, with the Congressional Award silver medal, while juniors, Mary Katherine Grippe and Abigail Scott earned bronze medals.

"I'm incredibly proud of the hard work these students have committed to earning Congressional Award medals. It requires a lot of volunteer hours and persistence to gain this national honor," said Congressman Rogers. "Our colleges and universities are looking for students who stand out among the rest - those who promote good character in addition to good grades. These students are setting the bar for success very high."

The Congressional Award program is open to all students ages 14 to 23. To earn the award, young people must set and achieve goals in four program areas: volunteer public service, personal development, physical fitness and expedition/exploration.

The Somerset Christian School has more participants and medal recipients in the Congressional Award program than any other school in Kentucky's Fifth Congressional District.

"We're very proud of our students and the high standard they set for achievement and success," said John Hale, Principal of Somerset Christian Academy. "John, Katie and Abigail are excellent students and they serve as wonderful role models for our younger students."
To earn the silver medal, John Garland collected over 700 hours of service in the four program areas. He volunteered with the Correll Leadership Program and completed hospitality training and event coordination – and had the opportunity to serve VIP guests like Dr. Ben Carson and Tim Tebow. For personal development, John challenged himself to translate, read and write the New Testament Greek and Spanish languages. To fulfill the physical fitness component, he spent over 250 hours training and conditioning for multiple competitive sports, including soccer, basketball, baseball, running and swimming. Finally, he planned a two-week trip across the U.S. for his expedition, trekking through 10 states.
Mary Katherine "Katie" Grippe earned her bronze medal by coordinating with the P31 Community Service Society to organize community events, like local fundraisers, baked good drives for the elderly and a four-mile relay race for a local non-profit. She also worked with the Stowe Center to learn the importance of patience and diligence when landscaping and gardening. For Personal Development, she worked on her baking and entrepreneurship skills with a small cupcake business. For the Physical Fitness component, she worked to improve her volleyball skills. Katie also planned a 5-day trip to Washington, D.C. to research our nation's history and explore a diverse urban area to fulfill her exploration requirement.

To earn the bronze medal, Abigail Scott volunteered with the P31 Service Society in partnership with the Stowe Center for their annual free dental screening event. She cleaned, painted and handed out information packets to the community. For Personal Development, Abigail learned the basics of playing the guitar. To fulfill the physical fitness requirement, she spent over 100 hours practicing her overhand serve in volleyball and set a goal to consistently serve in the 80-to-90% range. She also planned a four-night camping trip on the Black Rock Mountain for her expedition, where she experienced whitewater rafting and other adventures.

To sign up for the Congressional Award program, visit congressionalaward.org.
###