E-Newsletters
Dear Friend,

As storm recovery efforts continue in Eastern Kentucky from deadly flash flooding in July, the deadline to apply for federal assistance is just around the corner. Survivors have until Monday, October 12, 2015 to register with the Federal Emergency Management Agency (FEMA) for assistance under the presidential disaster declaration (DR-4239-KY).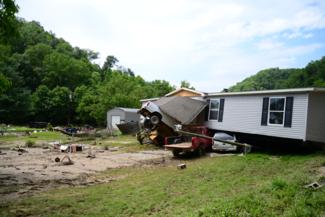 Folks in
Breathitt, Carter, Fleming, Johnson, Leslie, Perry, Rowan and Trimble counties are eligible for Individual Assistance. Those individuals can apply for assistance for costs associated with housing, medical, dental, transportation, funeral, personal property, moving and storage, or other necessary expenses.

Register online at DisasterAssistance.gov or by calling FEMA's helpline at 800-621-3362 (TTY 800-462-7585, Video Relay Service 800-621-3362).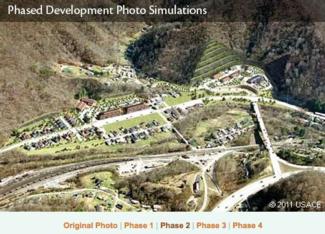 Contracts have been awarded for the next phase of the Town of Martin Redevelopment Project. The U.S. Army Corps of Engineers - Huntington District recently announced a contract award for more than $1.5 million for the new Martin Town Hall and Police Station, as well as a contract for over $9.8 million for the new Floyd County Renaissance Learning Center. The Corps plans to break ground on both projects before the end of the year.
Congressman Rogers urged the Corps to focus on home buyouts and development of sites for those homeowners during the next phase.
On Monday, the SOAR Executive Board approved the application process for local communities to
apply for Kentucky Appalachian Regional Development funds (KARD). Eligible applicants can apply for up to $250,000 to help fund projects that will improve economic opportunities in the 54-county SOAR region. Applications will be accepted online at soar-ky.org beginning October 12, 2015 and ending December 18, 2015. To download an application, visit soar-ky.org/kard-grant-applications/.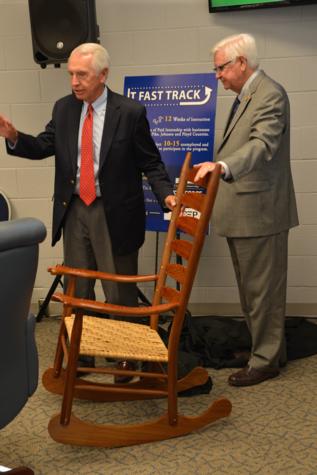 The SOAR board also bid adieu to Governor Beshear, my SOAR co-chair as he nears the end of his term as Governor of the Commonwealth.
Click here to watch our video tribute for his service to SOAR. As a token of our appreciation, I also presented the Governor with a hand-made rocking chair that was crafted by Laurel County master craftsman, Mike Angel. We are grateful for Governor Beshear's leadership on this monumental initiative to revitalize eastern Kentucky. Read more >>>
I am pleased with the impressive progress being made on the Mountain Parkway Expansion. On Monday in Salyersville, Secretary Mike Hancock from the Transportation Cabinet and Marshall Carrier, the project manager, told me and Governor Beshear that one-third of the expansion will be started or shovel-ready by 2016. It is on target for completion by the year 2020, and I commend the Governor for making this project a priority in eastern Kentucky.
Read more >>>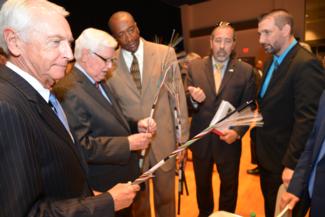 Thanks to a new $2.2 million grant from the federal Economic Development Agency, a new Broadband Technology Center will be built on the Pikeville Campus of the Big Sandy Community and Technical College (BSCTC). The Center will provide training for in-demand telecommunications jobs related to KentuckyWired - the "I-Way" - which will install more than 3,400 miles of fiber optic cable across the state. Working in partnership with the University of Pikeville and the Eastern Kentucky Concentrated Employment Program, the BSCTC Broadband Technology Center will house the Kentukcy Regional Telecommunications Installation and Maintenance Training Program, and will serve as a hub of broadband education and training in the southeastern region of the United States.
Read more >>>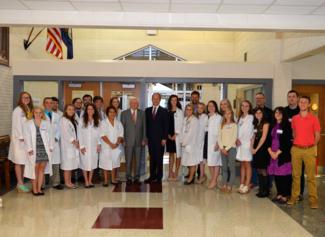 It was an honor to kickoff the Project Lead The Way Statewide Conference at Pulaski County High School last week. Project Lead The Way (PLTW) provides innovative tools for STEM education (Science, Technology, Engineering and Math) for K-12. STEM-based education is critical for our students preparing for the workforce, as an estimated 1.2 million STEM-related jobs are projected to be unfilled by the year 2018, according to the Department of Commerce. The PLTW students at Pulaski County High School (pictured above) are setting the benchmark for the entire state. Read more in the Commonwealth Journal >>>
Last week at Williamsburg Independent School, I was proud to join Kentucky Senate President Robert Stivers, Rep. Regina Bunch and local officials to launch Project Fit America. Thanks to Baptist Health Corbin, students now have new fitness equipment indoors and a new playground outside. Project Fit America promotes student health through fitness challenges and inspiring healthy choices. Read more in the Times-Tribune >>>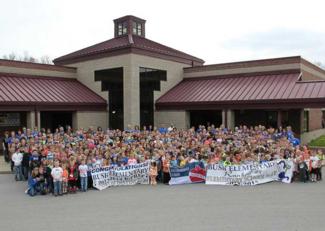 Congratulations to Bush Elementary School in Laurel County on being named a 2015 National Blue Ribbon School - an Exemplary High Performing School. In November, school officials will travel to Washington, D.C. for a national awards ceremony. Way to go Blue Devils!

Several schools across southern and eastern Kentucky made impressive strides in testing scores and achievement last year. Congratulations to the following schools that placed in the top ten in their categories: Corbin Independent School District, Pikeville Independent School District, Hazard Independent High School, Floyd County Middle - John M. Stumbo Elementary, Corbin Independent - Corbin Middle, Bush Elementary in Laurel County, Allen Elementary in Floyd County, Ezel Elementary in Morgan County, McDowell Elementary and May Valley Elementary in Floyd County.

Update from DC
Over the next few weeks in Washington, Congress will be focused on composing a comprehensive federal funding package for fiscal year 2016 for discretionary government spending. To allow time for a budget agreement, Congress passed a short-term continuing resolution (H.R. 719) on September 30 to fund the government through mid-December while we work towards a larger budget deal. The House got off to a great start - beginning our appropriations work at the earliest date since 1974 and passing 6 of our 12 bills by July. As Chairman of the House Appropriations Committee, I guided passage of all 12 bills. We must now work together to finalize a FY 2016 funding plan before the short-term funding bill expires on December 11th.


At the center of funding discussions, has been Planned Parenthood's alleged barbaric practice of harvesting and selling fetal organs and tissue for profit. On Wednesday, the House of Representatives approved a select committee to investigate Planned Parenthood's use of taxpayer dollars. Last month, I also voted for two bills to protect the life of unborn babies: the Defund Planned Parenthood Act of 2015 (H.R. 3134) and the Born-Alive Abortion Survivors Protection Act (H.R. 3504). Read more >>>



Looking Ahead at Local Events

October 14-15: ARC Conference "Appalachian Apps: Transforming the Region's Economy Conference"
Location: The Center for Rural Development in Somerset, Kentucky
Click here for details


October 19 at 10:30 a.m.: EOS Ribbon-Cutting Celebration for Local Job Creation
Location: Valley Oak Technology Complex - 75 Valley Oak Drive in Somerset, Kentucky
*Details coming soon


-------
If you would like to receive more frequent updates on what's happening in Washington, please send me an email, join my Facebook page, follow me on Twitter and Instagram, or subscribe to my YouTube channel. Thank you to everyone who has dropped by to share your opinion -- let's keep the dialogue going!


Sincerely,
Hal